Updates
January 2014
The 9th Iberoamerican Congress on Sensors (Ibersensor 2014) will be held October 15-19, 2014 in Bogotá, Colombia.
March 2013
A selection of 21 full papers from Ibersensor 2013 presenters were published in a special issue of the Journal of Physics: Conference Series, Volume 421, 2013.
December 2012
All the Ibersensor 2012 extended abstracts have been published in the electronic journal Revista Iberoamericana de Sensores, Volume 8, Number 1, 2012.
October 2012
Ibersensor 2012 - Puerto Rico ended successfully on October 19th, 2012. The conference was attended by 105 people and included 3 pre-conference workshops, and 86 research presentations (oral and posters). Participants represented 11 countries: Argentina, Brazil, Colombia, France, México, Panamá Portugal, Puerto Rico, Spain, Uruguay, and USA.
At the end of the conference the new President of the Ibersensor Permanent Committee, Manuela Vieira from the Instituto Superior de Engenharia de Lisboa/ISEL in Lisbon, Portugal, announced that the city of Bogot&aacuteñ, Colombia will host the 9th Ibersensor conference in 2014.
Please visit the following links to download the final version of the program, book of extended abstracts, and photos of Ibersensor 2012. If you have a Facebook account you may share photos by adding Prem Humacao as a friend.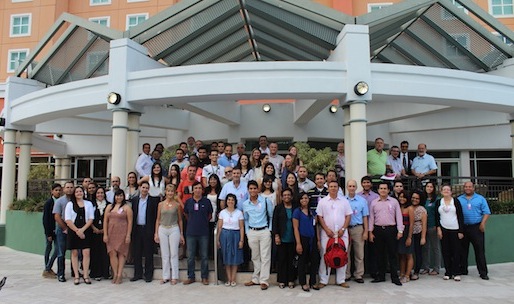 We invite you to participate in the 8th Ibero-American Congress on Sensors (Ibersensor 2012) that will take place in Puerto Rico from October 16 until October 19, 2012.
IBERSENSOR is a forum of the Spanish and Portuguese speaking scientific community, working in the fields of development of sensors of every kind and their applications. Previous conferences series were successfully carried out in La Habana, Cuba (1998), Buenos Aires, Argentina (2000), Lima, Perú (2002), Puebla, México (2004), Montevideo, Uruguay (2006), Sao Paulo, Brasil (2008), and Lisboa, Portugal (2010).
The conference events will take place at the Embassy Suites Hotel and Casino in Isla Verde. The hotel is located less than 2 km from the Luis Muñoz San Juan International airport and at walking distance from the Isla Verde beach, restaurants and public transportation. Historical Old San Juan is at 11 km and Piñones at 8 km from the conference hotel. El Yunque rain forest is half an hour drive as well as the Luquillo Beach.
We are looking forward to welcome you in Puerto Rico in October 2012.
Organizing Committee Ibersensor 2012